WEBSITE DEVELOPMENT
FairScan can develop your business a custom, modern, professional & affordable website that is easy for you to maintain and easy for your customers to use
Improve your online interactions with your customers by having FairScan develop you a modern, fast and easy to use website for your business
With over 20 years of experience in the industry, FairScan understands what is required in developing a B2B website for your business.
Other platforms design their websites for retail only sales without considering the requirements of a Wholesale business.  With a FairScan developed website, the ability to hide pricing until customers register and are approved is included as standard.  There are also options to restrict content (such as catalogues or price lists) to unapproved visitors.
FairScan doesn't charge any commission on order places on the website that we develop.  Your customers aren't required to enter payment details on checkout as their order first needs to be picked, packed and then possibly adjusted due to stock availability and the addition of freight.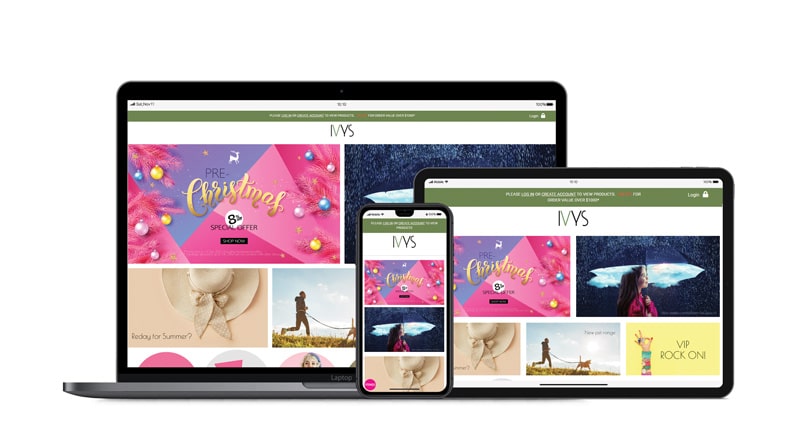 Websites developed by FairScan are designed to work on all devices
More retailers are now buying from home using Tablets and Phones
With Covid disrupting so many businesses, it became clear that it is critical for businesses to have a modern, functional website that is easy to use.  This will allow customers to place their orders quickly, at a time that is convenient to them, on any device!
If your website is more than 5 years old, then it is highly recommended that you upgrade.  Upgrading to a modern, mobile friendly website will enable your customers to place bigger orders faster on an easy to use platform.
With this in mind, FairScan has developed a comprehensive template based on the Magento platform.  This both reduces and streamlines the time required to develop and launch your new website.
During development, you can select from a list of existing features or you can request your own unique feature.  Our aim is to develop a professional, feature rich, cost effective website for your business.
To achieve this, we have spent several years refining the website development process.  We have the ability to import item details from your Accounting System along with the option of importing existing customers.  Multiple options are available and will be discussed prior to the commencement of development.
With a FairScan developed website you know you are getting a quality, proficient, easy to use website that is designed, developed and supported in Australia.  With over 20 years' experience in the industry FairScan understands what B2B businesses require.
Contact FairScan today to learn more about how a new website can help improve your business.
Having FairScan develop a website for your business has many benefits including:
MODERN
Designed for desktops, laptops, tablets and phones using modern design aesthetics
CUSTOMISABLE
Choose from a large list of available options or request your own custom feature
EXPERIENCE
FairScan has developed many websites for both wholesale and retail businesses throughout Australia and New Zealand
EASY TO MAINTAIN
FairScan will provide you with training on how you can update your website using our easy to use and intuitive backend
Zero Commission
Unlike other platforms, FairScan doesn't charge a per order fee or percentage each time an order is taken
Designed for B2B
FairScan developed websites are designed specifically for Business to Business transactions and include many features that are specific to B2B websites
A custom website developed for your business by FairScan has many available features including:
Hide pricing and/or content from visitors that haven't been approved
When someone visits your site for the first time they won't be able to see item pricing or place orders until they have registered and been approved.
Instead of seeing prices they will be provided with a link to register and be approved.
To see pricing and to place orders, customers must register and then be approved by you.  Only once approved will they see your prices and be able to order.
Quickly add multiple quantities of any item to shopping cart
We have developed a custom plugin which allows items to be added in bulk to an order.  Users can select their quantity and then click 'Add to Cart' and the product will be added to the order in the quantity entered.  The page doesn't even need to refresh!
When viewing the page again, the quantity box will show how many of each item that the customer has ordered.  The box will change to green and display the quantity ordered for each item.
Our websites are designed to run on computers, laptops, tablets and phones
FairScan developed websites are mobile and touch friendly.  The website will adjust automatically based on the device that the visitor is using.  This will ensure that the website operates perfectly on small devices such as phones, medium devices such as tablets and large devices such as PC's and Macs.
Easily update page content and item information from the easy to use backend
You will have full control over the content on your site and will be trained on how to update item details and also page content.
The easy to use interface allows you to easily upload images, update text and add/update advanced features such as image sliders, carousels & blog posts.
FairScan will be available to provide assistance for you if you have any questions.  Alternatively we can update content on your behalf.
We encourage our customers to be as self-sufficient as possible, but sometimes it is just easier if we update something for you.
Ability to operate a retail website off the same backend
If required, you are able to run a retail and wholesale website off the same backend.  This allows you to use the same item details for both sites, whilst having a different price per site.
Different rules can be applied to both sites (i.e. retail customers can order without registering whilst wholesale customers have to register and be approved to see pricing).  It is also possible to hide products or other content on either site.
Alternatively, you can also run a separate website for another country such as New Zealand.  This way you can tailor the content that you want NZ to see and also adjust items (different pricing, hide items, different minimums) for New Zealand customers.
With a retail website we can also incorporate freight calculation plugins and also payment options such as Afterpay and PayPal.
FairScan has developed many websites for customers in Australia and New Zealand.
Click the button below to view examples of websites developed by FairScan
The websites developed by FairScan are based on the Magento 2 platform.  Magento is an industry leading web store platform that specialises in online ordering.  FairScan modifies and develops this platform to suit your needs.
One of the main benefits of using Magento is the ability to install already developed Plugins.  Plugins are features or functions that have been developed by programmers that can be added to your FairScan developed website.
It is much more cost effective to use pre developed Plugin's and it is a really good way to add additional features or functions to your site in a cost effective way.
WEBSITE CUSTOMER TESTIMONIALS
It was great working with Luke and the FairScan team.  The whole process was relatively straight forward, with Luke walking us through step by step.
Our website looks fantastic and so easy to use for our customers.
We are very happy with the 2 new websites that FairScan developed for us.  We are now able to sell both wholesale and retail to Australia and New Zealand with each store having unique products and pricing.
We love our new website!
We chose FairScan for their expertise in trade requirements & exporting data etc, however our expectations were exceeded.
Everything was super straight forward to get happening, it works exactly as it should & is easy for us to maintain.
We've had lots of positive feedback from our retailers that its easy to use & has all the info they need.
FairScan were amazing to deal with, they spoke our language & nothing was too hard. I highly recommend
Luke has provided IT support for Perfect Pieces for many years.  During COVID lockdown we took the opportunity to create a new website.  Luke was patient and helpful during development, even when we made last minute changes and asked "silly" questions.
The results exceeded our expectations and we have received glowing feedback from customers on the appearance and ease of navigation.
We are thrilled with the result and happy to recommend Luke's services to others.